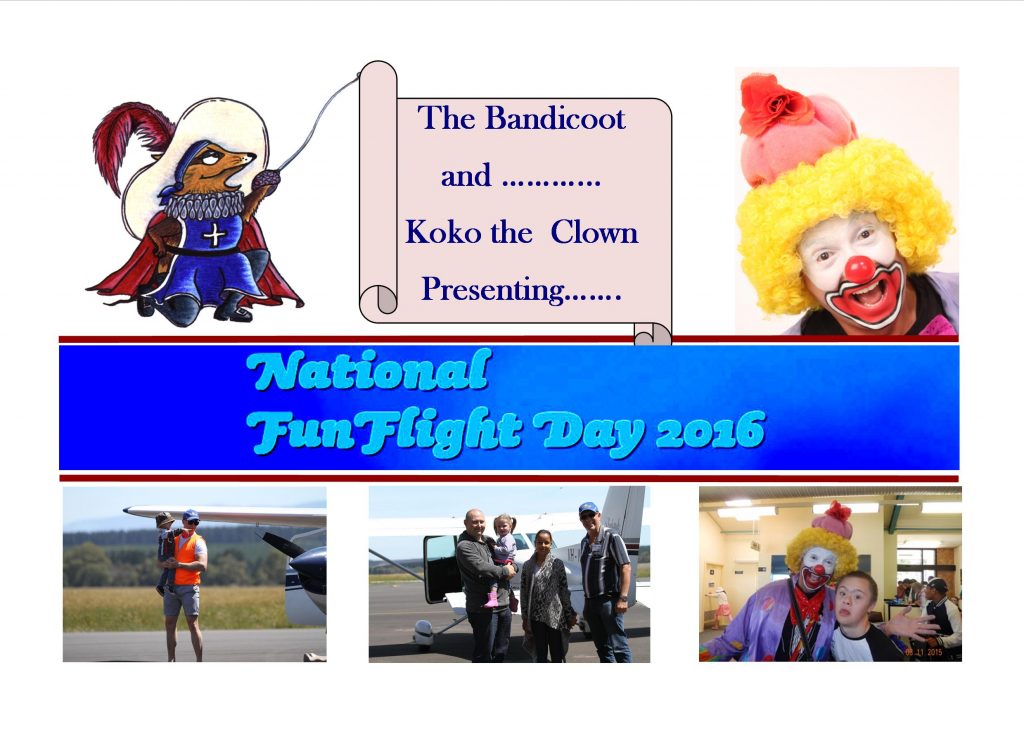 What this event is about
FunFlight is a national event setup by a team of people with a vision that every child can have the opportunity to fly. FunFlight is purely volunteer-run and established to provide children touched by adversity, with joy and inspiration through the exhilaration of flight.
This years Funflight event is organised by Bandicoot Adventure Flights with Koko the Clown, volunteers and aircraft from Latrobe Valley Aero Club and our aviation community. We welcome you all, even if you are an older child or adult !
What do I need to do;
We encourage all participants to try and have a fly, to do this you must register at http://www.funflight.org/individual-registration.html .
If you are unable to fly, don't let that stop you from coming with your carer and family.
If you don't register let me know if you are coming (we don't want anyone leaving hungry !) sms or ring 0428 826007 or email brushtail_possum@hotmail.com
The fun things for you to do are;
Be part of the magic with Koko the Clown
Face painting, other entertainment.
Free Flight in an aircraft for eligible participants (must register with funflight.org)
Free BBQ for eligible participants ($5.00 for non eligible people)
Check out the Aeroplanes
Have a yap with caring people (if the aviation talk bores you, there will be some experienced carer's available !)
When and where;
Sunday 13th November 2016, 10:00 AM Latrobe Regional Airport Terminal Building.
The big ticks are;
Wheel Chair access and facilities
People to help you
Car Parking
Categorised in: Uncategorised
This post was written by Dave Bandicoot