Due to Covid-19, we are not conducting any flights at this time.
Aerobatic Adventure flights in the Pitts Special 
It is the ultimate adrenalin pumping adventure thrill ride for those of you daring enough to try our Aerobatics Adventure Flights. There are 3 levels of flight. Level 3 is the hardest.
---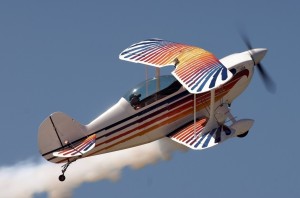 Level 1 Pitts (15min or 20min)

Aileron Rolls, Barrel Rolls, Loops, Stall Turn. Steep Turns.

Level 2 Pitts (25min)

All the above, plus: Slow Rolls. Spins upright. Half Cubans & Hesitation Rolls. Inverted Flight.

Level 3 Pitts (30min)

All the above, plus: Inverted Turns. Vertical Rolls. Full Cubans.
Book your Aerobatic Adventure flight
---

---